About Us
Junior Achievement of Western Massachusetts impacts thousands of young people each year, opening their minds to their potential and preparing them for life after graduation.
As a member of JA USA, JA of Western Massachusetts is a part of the world's largest organization dedicated to educating students about workforce readiness, entrepreneurship and financial literacy through experiential, hands-on programs.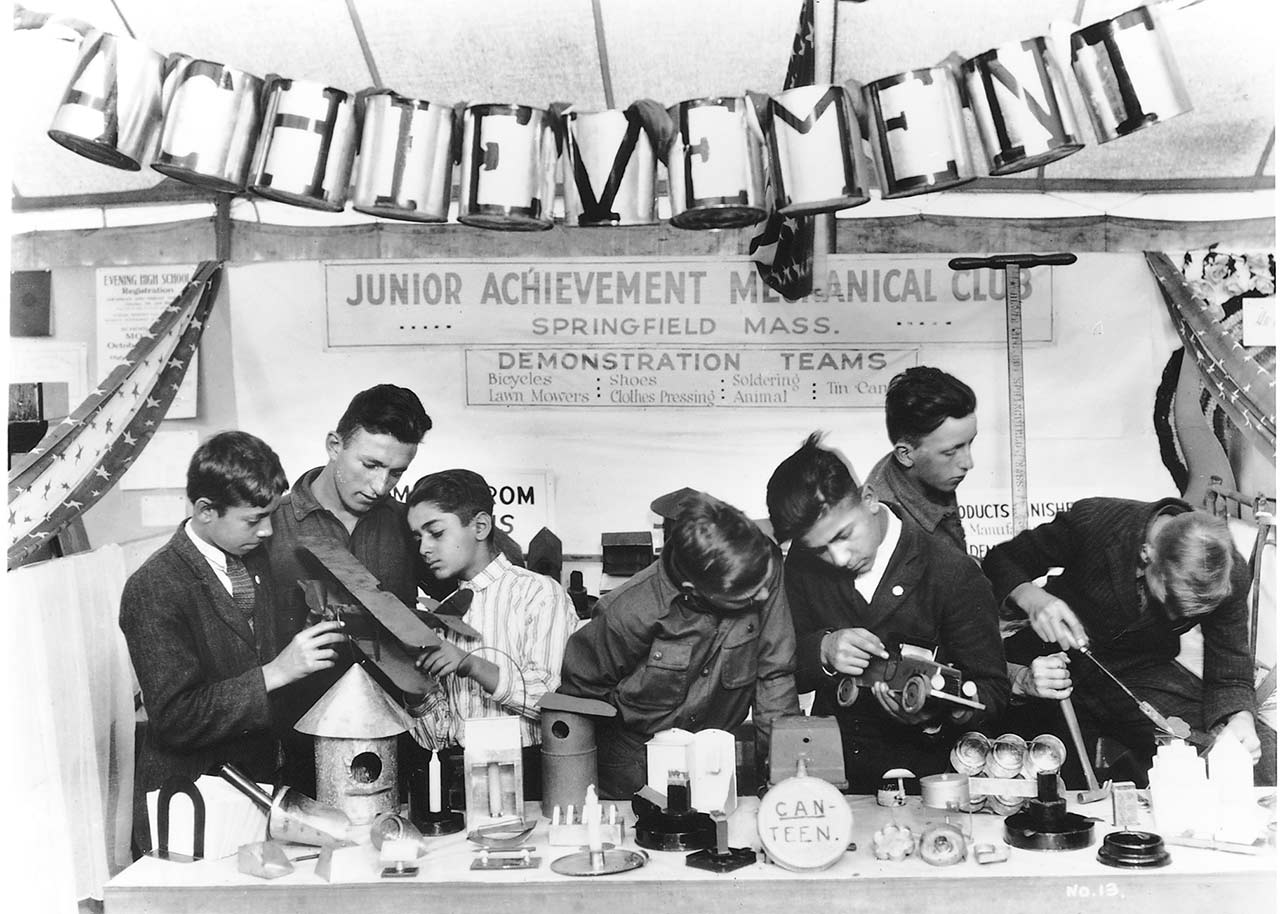 Junior Achievement programs are offered at no cost to the schools and community groups throughout Western Massachusetts and Vermont. All JA programs correlate to U.S. National Standards, Common Core Standards, and MA and VT Academic Content Standards.
Our age‐appropriate, academically challenging programs are offered to local schools and community groups free of charge because of the financial support we receive from hundreds of local businesses, individuals, and foundations, in addition to our special events.

Our History
Junior Achievement was founded in Springfield, Massachusetts in 1919 by Theodore Vail, president of American Telephone & Telegraph; Horace Moses, president of Strathmore Paper Co.; and Senator Murray Crane of Massachusetts. Junior Achievement has since grown to become the nation's largest organization dedicated to giving young people the knowledge and skills they need to own their economic success, plan for their future, and make smart academic and economic choices.
JA's programs—in the core content areas of work readiness, entrepreneurship and financial literacy—ignite the spark in young people to experience and realize the opportunities and realities of work and life in the 21st century.
Our Purpose and Core Values
Junior Achievement inspires and prepares young people to succeed in a global economy. We maintain an active vision for how we can have a positive impact on the lives of more students, guided by our core values:
Belief in the boundless potential of young people
Commitment to the principles of market-based economics and entrepreneurship
Passion for what we do and honesty, integrity, and excellence in how we do it
Respect for the talents, creativity, perspectives, and backgrounds of all individuals
Belief in the power of partnership and collaboration
Conviction in the educational and motivational impact of relevant, hands-on learning
OUR COMMITMENT TO DIVERSITY, EQUITY AND INCLUSION
We at Junior Achievement are dedicated to providing a positive, enriching learning experience free of bias that promotes greater economic opportunity and equity. Junior Achievement welcomes K-12 students, volunteers, educators, staff, and other partners and stakeholders, regardless of race, religion, age, gender, national origin, disability, sexual orientation or any other legally protected characteristic.
Our Approach
JA's unique approach allows volunteers from the community to deliver our curriculum while sharing their experiences with students. Embodying the heart of JA, our more than 400 classroom volunteers transform the key concepts of our lessons into a message that inspires and empowers students to believe in themselves, showing them they can make a difference in the world.
Our Impact
Junior Achievement has a beneficial impact on students' attitudes and knowledge base, which they take with them into the adult world of work and personal responsibility. When asked if being a JA student positively affected their future, 92 percent of JA alumni responded with a resounding "Yes!" Learn more in our annual report.
Our Supporters
Our goal as an organization is to better serve the community, and support it with an educated future workforce. In return, we require the support of the community so we can continue as an organization. This includes finding volunteers from the community who are willing to go into the classrooms. It also means finding business professionals who are willing to serve as
board members
and support the administrative side of Junior Achievement.
Thank you to all our generous supporters including:
The Horace Moses Leadership Society
Gifts $20,000 and Greater
Anonymous
Irene E. & George A. Davis Foundation
MassMutual Financial Group
Peoples United Bank Charitable Foundation
The Chairman Level
Gifts from $10,000–$19,999
Horace A. Moses Trust/The Boston Foundation
Key Trust, Horace Moses
Santander, NA
Savage Arms
St. Germain Investment Management
United Bank Foundation
The Director Level
Gifts from $5,000–$9,999
American Outdoor Brands (Smith & Wesson)
Balise Motor Sales Company
Chicopee Savings Bank Foundation
Comcast
Elms College
Guardian Life Insurance Company of America
Joseph & Anna Dias Jr. Family Foundation
UMASS Springfield Center
UPS Foundation
Webster Bank
Wells Fargo Bank, N.A.
Community Partners
Cambridge Credit Counseling Corporation
Chicopee Credit for Life Committee
FitZone Athletic Performance
Greater Chicopee Chamber of Commerce
New England Farm Workers Youth Program
Regional Employment Board of Hampden County Youth Council
Springfield Regional Chamber of Commerce
Stay in School Committee
UMass Springfield
United Way of Pioneer Valley
Westover Job Corps